About Kookaburra Sport
Kookaburra Sport was established in Melbourne by Alfred Grace (AG) Thompson in 1890. AG Thompson was born in St Ives, Huntingdon, Cambridgeshire in 1863. He learnt his trade as a saddler and harness maker from his father William, a Scotsman. After moving to London he continued honing his skills at Laurie and Marner, Carriage and Harness makers to Royalty.
Kookaburra Sport initially traded as AG Thompson Pty Ltd, utilising "Kookaburra" as a product brand. AG had a 'pet' Kookaburra called Jacky who resided in the peppercorn tree outside AG's residence and workshop in Bay Street, Brighton and was the inspiration for the brand name.
After 130 years Kookaburra Sport remains a 100% Australian family owned business. Fourth and fifth generation members of the Thompson family continue to work at Head Office in Melbourne, with additional offices in India, New Zealand, and the United Kingdom, and an agency in South Africa, employing over 200 people globally.
We are proud sports equipment manufacturers specialising in cricket and field hockey balls and equipment, bespoke teamwear, clothing and footwear. We predominantly sell products via existing retailers, online and direct to cricket and hockey Leagues and Associations in over 50 countries worldwide.
By the First World War AG Thompson Pty Ltd was recognised as a leading Australian hand-stitched cricket ball manufacturer. The Kookaburra Turf cricket ball is still hand-stitched in our Australian Headquarters by skilled craftsman that have over 80 years' experience between them.
Kookaburra Hockey balls were initially used in the 1956 Olympic Games, where a leather ball similar in construction to a white cricket ball was used. In the early 1980s our Research & Development Department embarked on a project to develop a uniquely designed ball exclusive to hockey. The result was the Kookaburra Dimple hockey ball. The Dimple Elite hockey ball was introduced to international hockey during the 1984 World Cup and Los Angeles Olympic Games and has been used exclusively ever since. Today, the Kookaburra Dimple Elite is the only hockey ball with Global Approval from the International Hockey Federation (FIH).
In 1990 AG Thompson Pty Ltd adopted the trading name Kookaburra Sport due to significant recognition of the brand. Today four Thompson family members are actively involved in the daily running of the business, producing over 650,000 cricket and hockey balls a year. We are the only remaining cricket and hockey ball manufacturer to oversee production in Australia.
Kookaburra acquired 200 year old British cricket ball manufacturer Alfred Reader & Co in 2002, to strengthen its cricket ball position within the English market, while continuing to supply Kookaburra cricket balls throughout the cricket-playing world.
Our skilled bat maker joined the Melbourne team in 2016 to support our elite cricket player's personal equipment needs. The Kooka Bat Cave is a hub of activity and excitement when our sponsored players visit Head Office.
In 2019 Kookaburra Sport merged with Burley-Sekem, another iconic Australian business. Burley Sekem's origins trace back to 1907, giving the Kookaburra Sport Group nearly 250 years' experience in the manufacture of elite sporting goods and apparel. Today the Burley football is used exclusively in the WAFL and SANFL.
The Sekem apparel division is Australia's oldest national sports apparel manufacturer dating back to 1923 and is a leading distributor of AFL, NFL and other licensed apparel and accessories.
Kookaburra New Zealand acquired the agency for Babolat in 2019. Babolat is the oldest tennis company in the world established in 1875, and like Kookaburra Sport is still owned and operated by the founder's family.
Kookaburra Sport continues to be associated with some of the best cricket and hockey players to grace national and international fields.
Community has always been of great importance to the Kookaburra family, and we continue to work extensively with local cricket and hockey communities and Sporting Boards to support grassroots initiatives.
We proudly support, partner and sponsor various community groups, events and organisations including The McGrath Foundation, International Women's Day, Fairbreak, Blowfly Cricket, Maddie Riewoldt's Vision and Indigenous Cricket.
Over 130 Years in the Making
1888
AG Thompson immigrated to Australia in 1888 with his new wife Ruth. They were destined for Canada. On seeing a poster promoting Tasmania he changed his mind and decided to set sail for Australia, and a warmer climate. They disembarked in Melbourne instead, and stayed.
AG settled in Brighton where he and Ruth raised 4 children – Kate Burdett, William Alfred, Alfred Edward and Henrietta Thompson. At that time Brighton was a market gardening area with an abundance of native birds, one being AG's 'pet' Kookaburra Jacky.
Once in Melbourne AG Thompson initially worked for a short period with Coach makers AG Humby, on St. Kilda Road in Melbourne.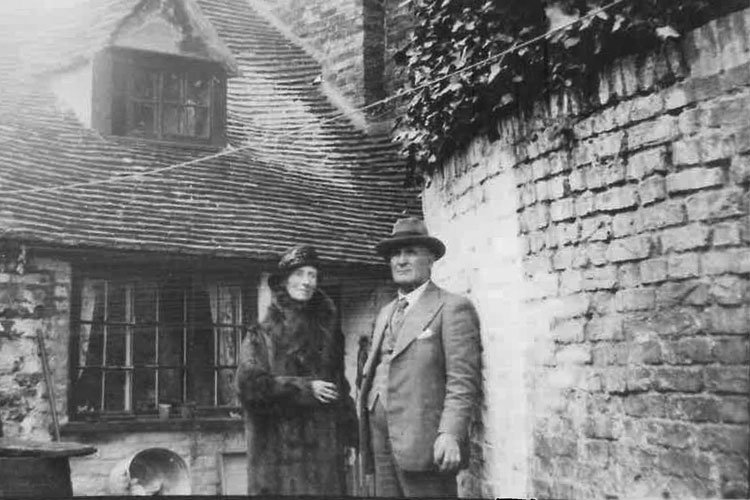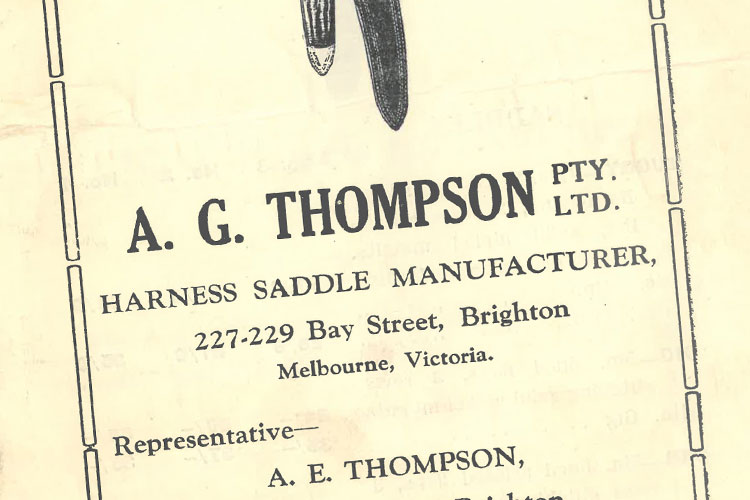 1890
In 1890 AG established a retail business in a residential shop at 272 Bay Street, Brighton repairing, making and selling general leather goods including sporting goods. In a workshop behind the shopfront he manufactured harnesses and set about establishing himself as the leading saddler in the area.
William (Bill Snr) Alfred Thompson joined his father AG in 1905, followed by his brother Alfred (Alf) Edward Thompson in 1907. Bill Snr displayed innovative mechanical ability and Alf a keen sense of quality.
1912
By 1912, AG Thompson and his sons found they needed larger factory premises and moved down the road to 227 Bay Street, Brighton. In this period before the First World War they grew a solid business producing and selling cricket balls and oval-shaped inflatable footballs for Australian (Victorian Football League) and Rugby (Union and League) football.
Alf Thompson enlisted and served in the Australian Army Service Corps (ASC) 5th Division in 1916 after the commencement of the First World War. The ASC was responsible for transport and provision of supplies and rations other than machinery or ammunition.
In 1924 with the increase in demand for automobiles and the gradual decline in harness sales, AG and his sons made a concerted effort to break into the cricket ball market on a much larger scale. The product gradually established itself.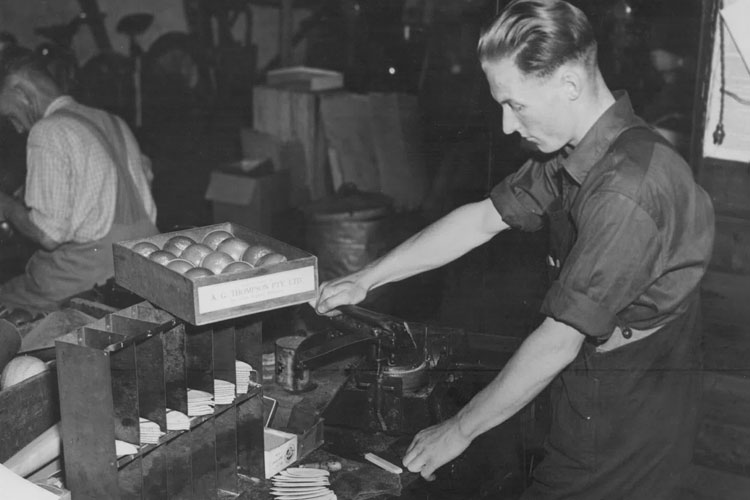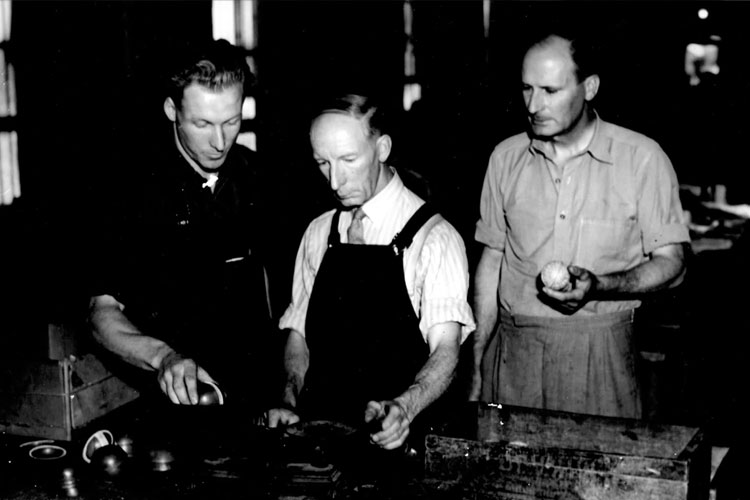 1938
In 1938 having established a large share of the national market, Kookaburra cricket balls were exported to South Africa signalling the beginning of global acceptance of the Kookaburra. JRT Crampton acted as AG Thompson Pty Ltd's agency, a relationship that continues to this day. Operating out of Durban, South Africa, JRT Crampton is still owned and operated by the same family and for four generations have been doing business with Kookaburra Sport.
During the Second World War the factory produced leather stitched handles for ammunition boxes to support the war effort. They also produced baseballs and softballs for United States troops that were based locally in Melbourne.
William Joseph (Bill Jnr) Thompson, son of Bill Snr, joined the Company in 1942. Bill Jnr settled into production and had the same inventive traits as his father. In 1944, during the Second World War, Bill Jnr was commissioned as a Flying Officer in the Royal Australian Air Force (RAAF). He was stationed in England and piloted the British Halifax heavy bomber. Upon returning to Australia Bill Jnr studied fitting and turning and was instrumental in innovating new production techniques allowing Kookaburra to remain globally competitive to this day.
1945
When the Second World War came to an end in 1945 the Australian Cricket Board of Control wrote to all Australian cricket ball manufacturers requesting samples of their product for possible use in the first post War Test series between Don Bradman's Australian team and the visiting English team in 1946.
The Kookaburra Turf ball, a hand sewn cricket ball with a five layered quilt, was chosen. It has been used exclusively in Australia, South Africa and New Zealand ever since.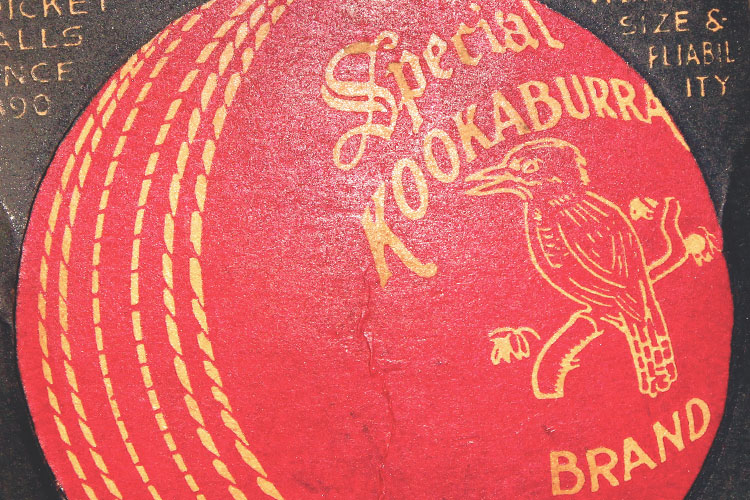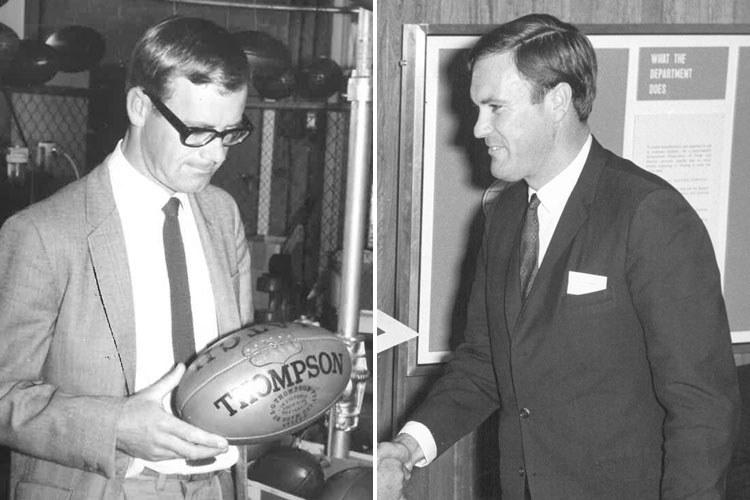 1952
In 1952 Alf's sons Bruce Muntz Thompson and James (Jim) Edward Thompson followed their cousin Bill Jnr into the business.
Bruce, like his father, was a skilled hand stitcher and had a very keen interest in business administration. He was particularly focussed on time study engineering, an interest he utilised to increase production line efficiency. He continued his education completing an accounting certificate at night school and went on to serve as a successful Managing Director and Chairman of the Company.
Jim started in production and was very mechanically minded like his cousin Bill Jnr. He took a keen interest in cricket development for youth and women. Jim was involved in the creation of Kanga Cricket a program primarily designed to involve junior girls, as well as boys, in cricket. He is a foundation member, and life member, of The Lord's Taverners Australia. Jim served as President of the Australian School's Cricket Council and was a Member of the Australian Youths Cricket Council. In 1999 Jim received the Order of Australia (OA) for services to cricket.
1955
Another move was in store in 1955, space had become a premium and so the Company moved to 531 Nepean Highway, Brighton. The architectural plans for this factory were designed by Alfred John (John) Thompson, brother of Bruce and Jim, and Alf's son. John's designs were implemented in three phases.
In 1956 the Olympic Games came to Melbourne. The Company provided the hockey balls, which were essentially a white cricket ball.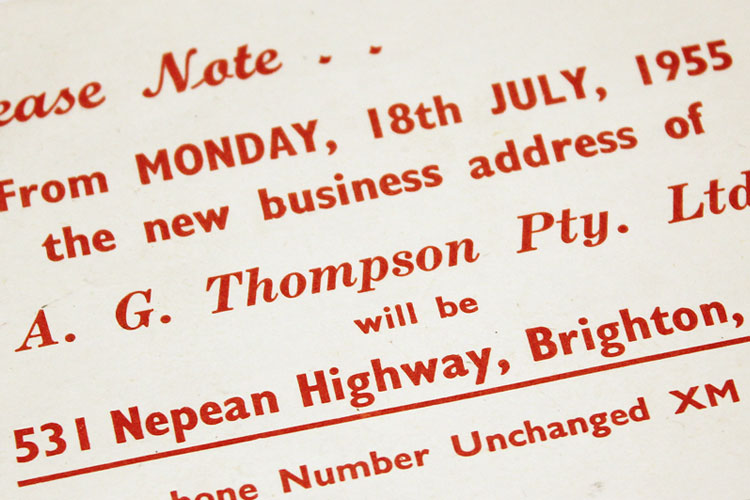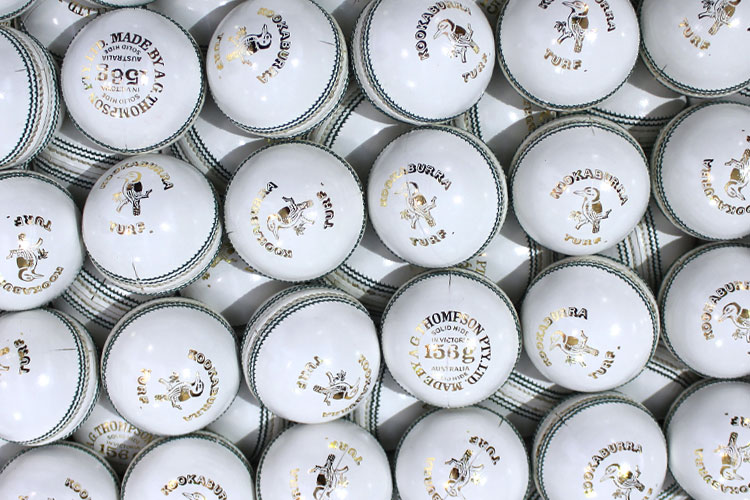 1977
In 1977 the Company was asked by Kerry Packer and the Channel Nine Network (Australia) to develop a white cricket ball for use in one-day limited overs cricket and day-night test cricket that could be played into the evening for television purposes. The Company met Kerry Packer's request by developing a new method of manufacturing the Kookaburra Turf ball which was used in what came to be known as World Series Cricket.
The Company, which was widely known as Kookaburra by this time, stated that if such a change were to be implemented it would have to be agreed to by the Australian Cricket Board. The Australian Cricket Board agreed to the proposal and the new Turf ball was manufactured and introduced for use in all subsequent Australian Test Cricket matches and World Series Cricket.
1984
The Kookaburra Elite Dimple hockey ball was introduced to international hockey during the 1984 World Cup and Los Angeles Olympic Games and has been used exclusively ever since. Around the same time, Kookaburra expanded their cricket range to include cricket bats, clothing, footwear and protective equipment.
In 1984 Peter William Thompson, Bill Jnr's son, joined the business. With two Masters Degrees in Engineering and a Post Graduate Diploma in Robotics and Mechatronics, Peter brought to Kookaburra considerable experience in manufacturing and engineering. Like his father Bill Jnr, and grandfather Bill Snr, Peter had a strong inclination for innovation, and research and development and headed the Research and Development Department for decades. Peter continues to work in the business today.
In 1989 Ross Edward Thompson, Jim's son, followed his uncle Bruce into production. Coming from the building trade having managed two self-owned and operated businesses, Ross had diverse experience, which also included a stint working in sales. An avid and skilled sailor, Ross has competed in the Sydney to Hobart Yacht Race five times and has competed in countless other yacht races. Ross mastered hand stitching of cricket balls and footballs, and ran the Production Department for decades, navigating the significant changes that occurred in manufacturing in Australia since that time. Today Ross remains working in the business.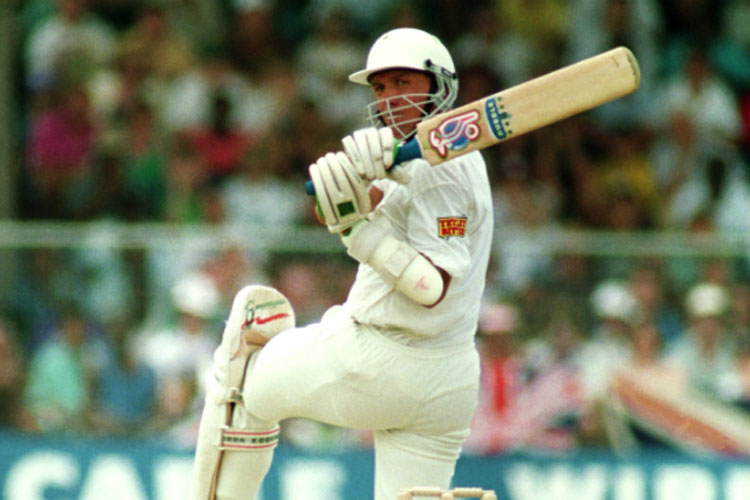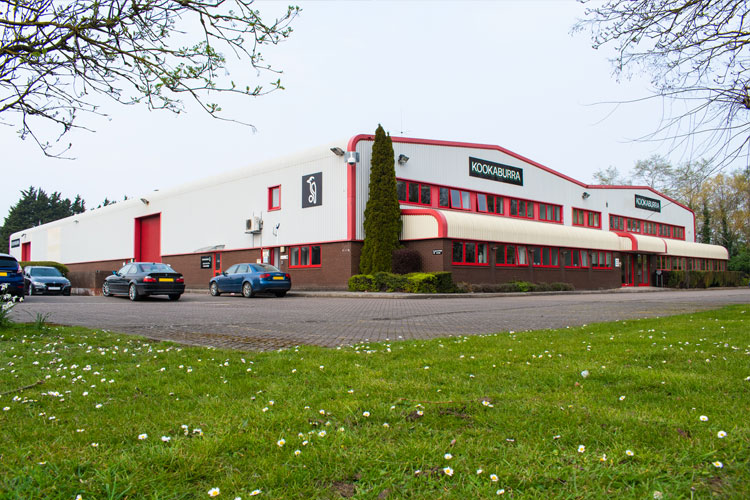 1990
In 1990 Kookaburra Sport established an office in Oakley Hay Estate, Corby, England. In the years that followed Kookaburra expanded to two sites allowing Kookaburra to operate production, warehousing, and administrative functions in the Northern Hemisphere.
In 1996 Ross's maternal cousin, Brett Robert Elliot, joined Kookaburra Reader in the UK. Brett, born in Australia, moved to England some years earlier and had gained experience in marketing and sales. Brett continued to work in the UK office becoming Kookaburra Reader UK's Managing Director. In 2011 Brett took up the position of Kookaburra Sport's Group Managing Director, a position he still holds today.
Bruce's son, Matthew Bruce Thompson, returned to Kookaburra in 2000, assisting his cousin Ross in production. Matthew had a wonderful rapport with his production colleagues and was responsible for numerous, enjoyable team building initiatives. In the early 1990's Matthew had established Homer's, a retail shop that specialised in Australian Sporting Collectables, in Hampton Street, Hampton. Matthew is still engaged by Kookaburra Sport to source sporting and saddlery memorabilia relevant to the company's history.
2002
In 2002, Kookaburra acquired the 200 year old British cricket ball manufacturer, Alfred Reader & Co. to strengthen its market position in England, while continuing to supply Australian made Kookaburra cricket balls to the cricket-playing world.
In the same year back in Australia space had yet again become a premium and Kookaburra Sport moved from East Brighton to 218 Chesterville Road, Moorabbin, it's current Headquarters and manufacturing base.
The Kookaburra Reader office in the UK had a need to move in 2004 and went from Oakley Hay Estate to Brakey Road, Weldon North Estate, Corby.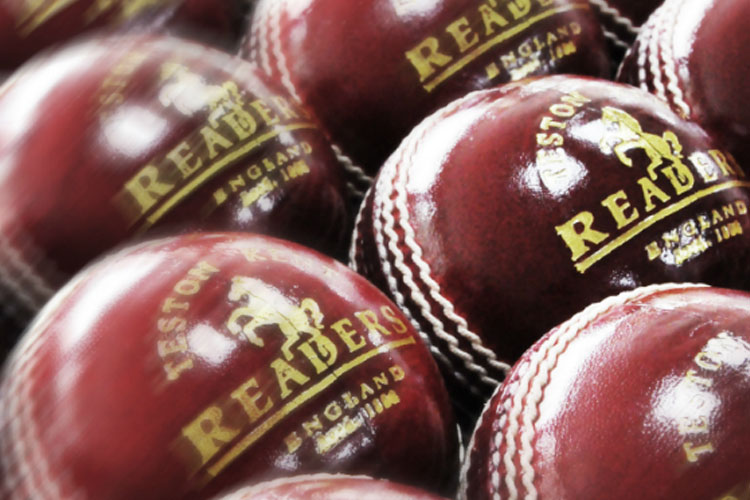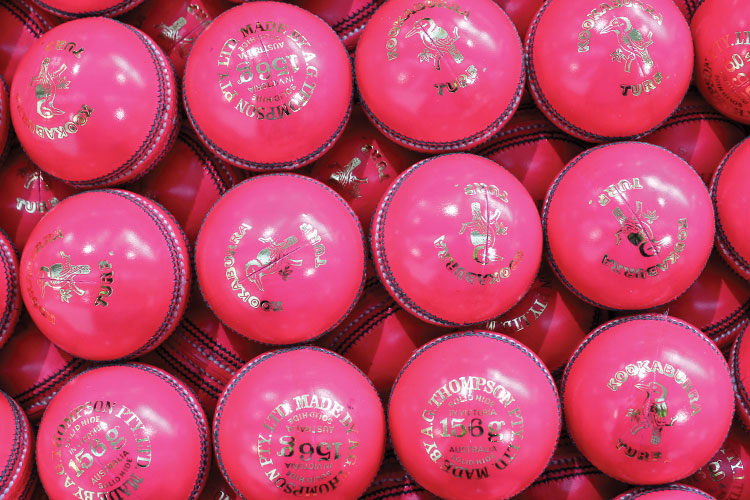 2009
In 2009 Kookaburra was approached by former Australian Test bowler Carl Rackemann to develop a pink cricket ball for a Breast Cancer Charity cricket match in Queensland. As a result of the successful production of a pink ball, Kookaburra worked with a number of international Cricket Boards testing the feasibility of a pink cricket ball which is now used in Day/Night Test Matches.
Nicola Thompson, Peter's daughter, returned to the business in 2011. Having completed a Bachelor of Business (Manufacturing & Human Resources) and subsequently completing a Post Graduate Diploma of Management. She had experience in human resources and industrial relations within manufacturing organisations. Nicola currently works at Headquarters in Moorabbin, heading up the Production, Research & Development Department, and is the first of the fifth generation of family members to enter the business.
2011 saw the establishment of Big Bash League (BBL) Twenty/20 cricket. As with other evolutions of the game of cricket, this gave Kookaburra Sport the opportunity to innovate and work with governing bodies to ensure the Kookaburra cricket ball would best suit this format of play.
2014
In the late 1990's Sarah Judith Thompson, Bruce's daughter, had worked as the company's Marketing Coordinator but left to move with her husband to Sydney. In the years that followed Sarah completed a Bachelor of Business (Marketing), a Certificate in Early Childhood Education and a Diploma in Book Editing and Publishing and worked in various marketing and education roles. Sarah returned to Melbourne and Kookaburra Sport in 2014 as Historian and Digital Media Manager focusing on social media. Sarah currently works at Headquarters with Ross, Peter, and Nicola Thompson.
Kookaburra Sport New Zealand was established as a distribution centre in Auckland in 2015. In 2020, despite various obstacles including the Coronavirus Pandemic, Kookaburra Sport New Zealand moved premises in order to accommodate the office's growth.
In the same year that the New Zealand office was established, Kookaburra Sport ventured in to manufacturing in India. The Kookaburra Sport India office and manufacturing site is located in Meerut, Uttar Pradesh a manufacturing hub for cricket and sporting goods suppliers. The Indian manufacturing site produces products for the Indian market.
In November 2015 Australia hosted New Zealand in the first official Day/Night Test match in Adelaide. It was the first time the Pink Kookaburra Turf cricket ball had seen the light of day (and night) on the international stage.
During the 2015/16 season Women's cricket grew significantly as spectator interest and media coverage increased. The first Women's Big Bash League (WBBL) tournament was held and, along with other popular sports like Aussie Rules Football, the support for women's cricket was evident.
In 2017 Nicola Thompson and Sarah Thompson were appointed to the Kookaburra Sport Group Board. Already senior managers, it was the first time in Kookaburra's 130 year history that female Directors had been appointed to the Board.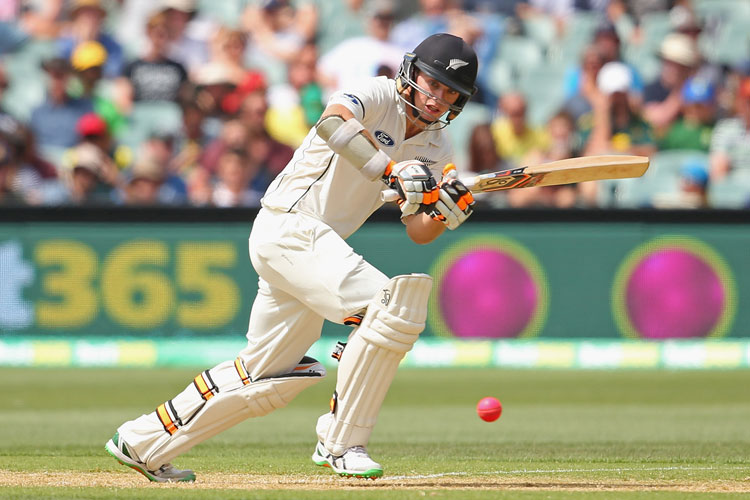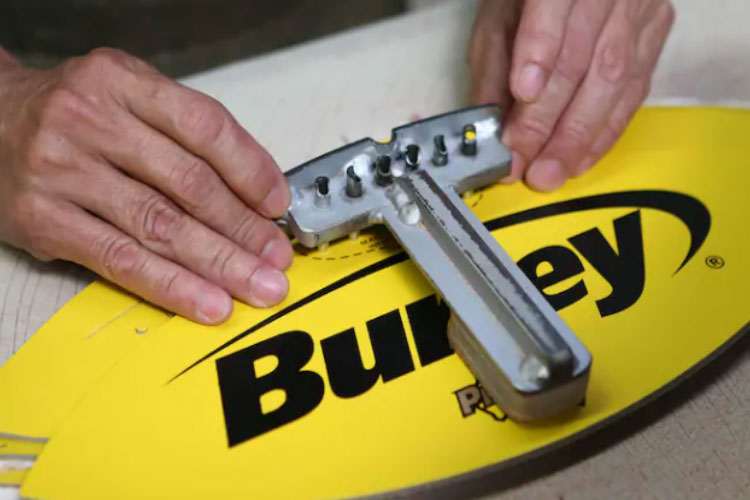 2019
By 2019 the Kookaburra Sport New Zealand office had established itself as a successful business and agent and secured the Babolat agency in New Zealand. Established only 15 years before AG Thompson Pty Ltd in 1875, Babolat, like Kookaburra Sport, is still owned and run by the founding family.
In 2019 Kookaburra Sport merged with Burley Sekem who are based in Western Australia. Burley Sekem manufacture various inflatable balls including Australian Rules footballs and netballs, as well as indoor cricket balls, apparel for men, women and children and accessories. Burley Sekem has an extensive licensing program across a number of sporting codes including AFL and NRL.
On International Women's Day in 2020 the Kookaburra White Turf ball was used in the International Cricket Council (ICC) Women's T20 World Cup Final in Melbourne. The special Kahuna Kookaburra cricket bat used by Kookaburra players throughout the Series was designed by a female graphic designer employed at Headquarters in Moorabbin. 86,174 people packed the Melbourne Cricket Ground (MCG) acknowledging that Women's cricket had well and truly arrived. There was a significant drive to have 100,000 in attendance, however with the world being at the tipping point of Coronavirus becoming a pandemic that attendance number was not met.
Today
Today Kookaburra is the exclusive supplier of red Kookaburra Turf cricket balls to the majority of the cricket-playing nations, and the white Kookaburra Turf cricket ball is used exclusively in all One Day Internationals (ODIs) and Twenty 20 Internationals (T20Is) worldwide. Kookaburra Cricket is also now a market leader in the distribution of cricket equipment, accessories and teamwear catering to all cricketing communities around the world.
Kookaburra Hockey balls have been used in the Olympic Games since 1956 and the World Cup since 1984. The Kookaburra Dimple Elite hockey ball remains the only hockey ball with full international Hockey Federation (FIH) approval. Kookaburra Hockey continues to produce innovative hockey sticks, equipment, accessories and teamwear to global markets, establishing itself as one of the leading hockey brands in the industry.
From cottage industry beginnings in Bay Street Brighton, Kookaburra Sport has grown to become a global brand synonymous with sport. In the 130 year history the Company has employed 33 family members, 25 of which are direct descendants of AG Thompson. It is wondered what AG would make of Kookaburra Sport today, after leaving England all those years ago in 1887. Despite the challenges Kookaburra faces, as all businesses do in the current world climate, the Thompson family remains committed to innovation and progress in order to continue the long line of business with huge family interest in something that started out with a young man looking for a warmer climate to live and work in.