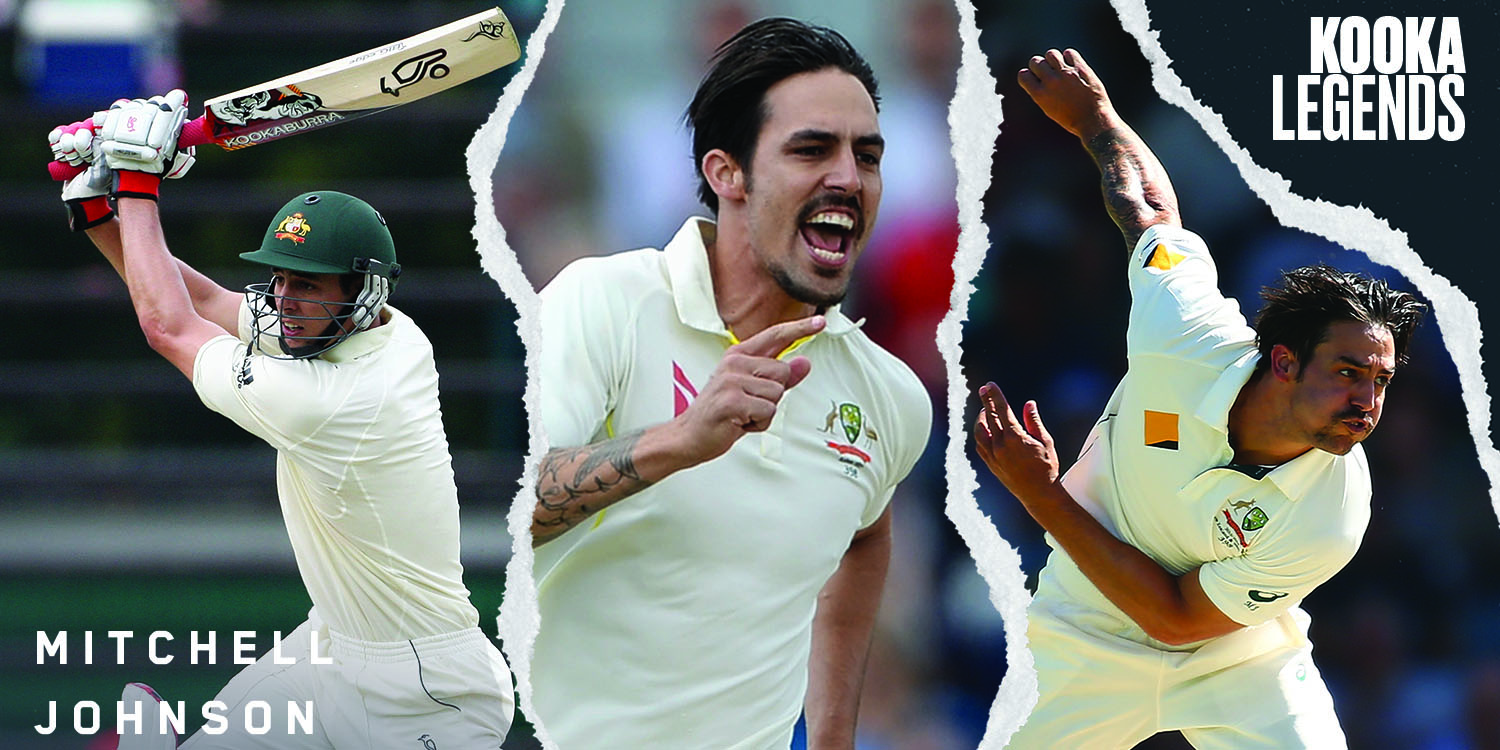 Mitchell Johnson

Born: November 2, 1981, Townsville, Queensland
Major Teams: Australia, Australia A, Kings XI Punjab,Mumbai Indians, Perth Scorchers, Queensland,Western Australia
Playing Role: Bowler
Batting Style: Left Hand Bat
Bowling Style: Left Arm Fast
Product: Kookaburra Turf Ball

Profile
An express bowler whose career has consisted of Himalayan peaks and oceanic troughs, Mitchell Johnson at his best was as fearsome as fast bowlers come. That summit came during 2013-14, when in successive series he cowed the batsmen of England and South Africa with his speed and aggression. In those eight Tests he collected 59 wickets at 15.23, along with a big bunch of cherries on helmets and gloves. Not surprisingly it led to Johnson winning his first Allan Border Medal, and at the age of 32 he was finally achieving the sorts of feats that Dennis Lillee might have expected when he first spotted Johnson's talent as a 17-year-old. There had been other highlights along the way for Johnson, including brutal spells against South Africa in 2008-09, but the lows of his 2009 and 2010-11 Ashes campaigns left his legacy looking uncertain. Nerves and family problems contributed to those struggles, but a broken toe in 2011 gave him time away from the game and the chance to reflect on where he was going.
It was still far from smooth sailing: he offered little on the 2013 tour of India and was not even picked for the 2013 Ashes in England, but his return for the home Ashes that followed was emphatic. Wearing a moustache reminiscent of Lillee, he delivered a series of fast-bowling spells that would not have been out of place in the Lillee-Thomson era. Johnson intimidated with his bouncer and made England's batsmen seriously uncomfortable; that he was Player of the Series was no surprise. As described by Wisden, the mood changed whenever he tore in: "This was something visceral: a hush followed by a crescendo". A 12-wicket Test in Centurion in Australia's next series showed that it was no fluke. After that South African tour Johnson's pace eased off again, but he remained a strike weapon and became the fifth Australian bowler to take 300 wickets in Tests.
An athlete who started out preferring tennis, Johnson was late to focus on cricket and suffered early in his career with four back stress fractures that almost floored him for good. He persevered, driving a plumbing van when he lost his Queensland contract, and made his Test debut in 2007 after the retirement of Glenn McGrath. With a strong, flowing run to the crease, Johnson can become mechanical in delivery, especially if his wrist, a long-term concern, is in the wrong position. When it's bad, he sprays the ball on both sides of the wicket like an old-fashioned firebrand. When it's perfect, there are few better bowlers in the game. The late swing at pace is a major problem, along with sharp bounce, and sometimes it's just the angle across the batsmen that undoes them. Off the field he is often so quiet that it is hard to reconcile with his on-field speed and aggression. Also a clean striker with the bat, Johnson scored a Test century in South Africa in 2009, but never quite reached the genuine all-round status that once seemed possible.

Source: ESPNcricinfo