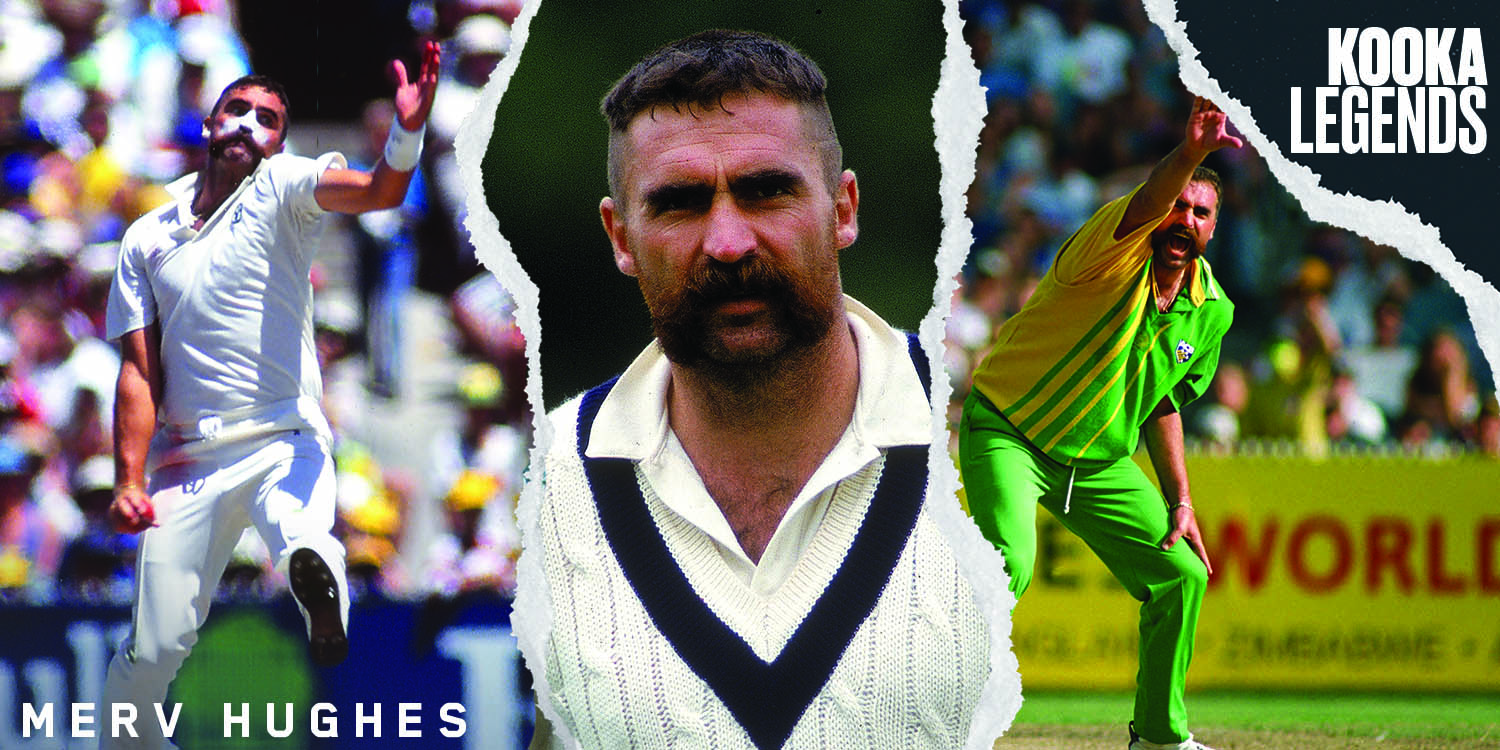 Merv Hughes

Born: November 23, 1961, Euroa, Victoria
Major Teams: Australia, Australian Capital Territory, Essex, Victoria
Playing Role: Bowler
Batting Style: Right Hand Bat
Bowling Style: Right Arm Fast
Product: Kookaburra Turf Ball

Profile
Merv Hughes was a big-hearted fast bowler who ultimately made a major contribution to Australia's fortunes. A crowd favourite, he was a lively character armed with an imposing run-up and delivery action, a classic fast bowlers' glare down the pitch, a mischievous sense of humour and a moustache of incredible proportions. And while his antics sometimes overshadowed his bowling, Hughes gave every ounce of effort to his country, and helped it to re-climb the ranks of Test cricket. Hughes made a comparatively modest entrance in the mid-1980s, but his value came to the fore against West Indies in 1988-89, when he lost pace partner Geoff Lawson to a broken jaw in the second Test. Hughes gained a hat-trick in that match, but his performance - 13 for 217 off 73.1 overs - illustrated his ability to combine the roles of spearhead and stock bowler.
By the mid-point of his international career, Hughes had improved his accuracy and variation and was using his bouncer, which remained a favourite throughout his career, with greater discretion. After ducks in his first three Test innings, he also become a handy batsman - albeit one who favoured a powerful, tail-enders' hoick over midwicket - and had a top score of 72 against the mighty West Indians of 1988-89. Hughes saved his greatest series performance for the 1993 Ashes tour, when bowling partner Craig McDermott was ruled out with a twisted bowel. Over the six Tests, Hughes took 31 wickets from almost 300 overs, helping Australia to a 4-1 victory.
Hughes sustained a serious knee injury during the series and made only a fleeting Test comeback the following summer, finishing with 212 career wickets. However, his enthusiasm for the game continued long after his international days. He appeared for the Canberra Comets during their experiment against the states in domestic one-day cricket, and became a veteran of his local club Footscray in Melbourne. A host of supporters' tours, he made the surprise step into high-level administration when he replaced Allan Border as an Australian selector in 2005. Dressed in a suit and with contemporary glasses he looks anything but the man who mixed jest with aggression as one of the country's most recognisable players.

Source: ESPNcricinfo