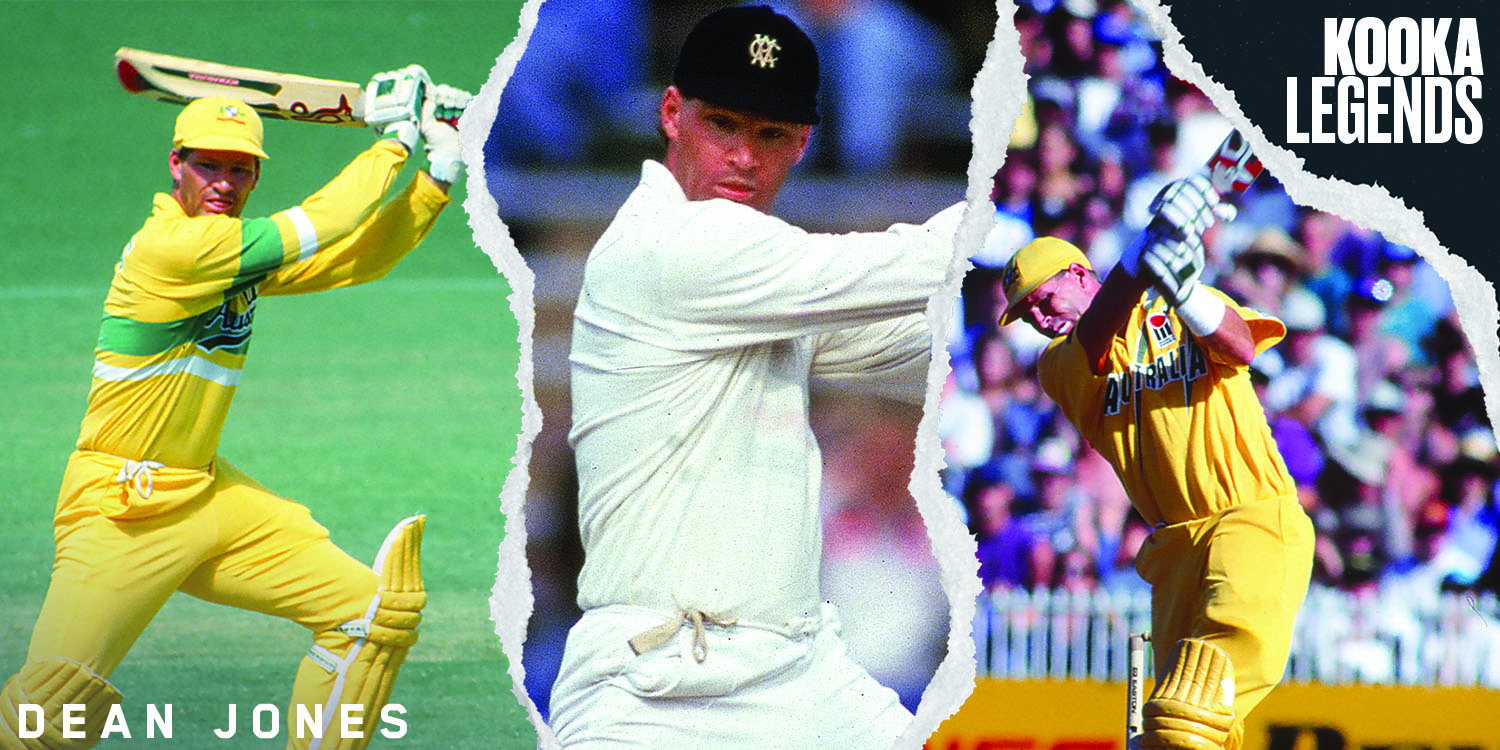 Dean Jones

Born: March 24, 1961, Coburg, Melbourne, Victoria
Major Teams: Australia, Derbyshire, Durham, Victoria
Batting Style: Right Hand Bat
Bowling Style: Right Arm Offbreak

Profile
Dean Jones wrote the book on one-day cricket - literally. He played a new game in which he walked down the pitch to fast bowlers, ran frenetically between wickets and turned outfielding into an attacking occupation. He was a natural showman who was for a while as popular as any other player in Australia. Yet he was also a classic cricketer who once made a triple-century for Victoria and remains their record run-maker. He averaged 46 in Tests, and in the tied Test at Madras in 1986-87 played what Bob Simpson said was the greatest innings for Australia. At the end of his 210 he ended up in hospital on a saline drip.
Jones was a significant part of the team's revival, playing in the '87 World Cup and '89 Ashes wins, but was dropped while still in his prime.
Source: ESPNcricinfo
24.09.20
The Kookaburra family are deeply saddened by the news of the sudden passing of Dean Jones.
Deano will not only be remembered for his incredible exploits on the field, but also the coaching, mentoring and commentary roles he played off the field. He was a man that selflessly gave back to the game that had given him so much.
We will forever be in awe of his steely determination, and his unquestionable talent as a batsman and fielder through what was a golden era of Australian cricket, of which he was instrumental in creating. Deano has and will continue to inspire generations of young cricketers to play the game he was so passionate about.
As an Australian cricketing family Kookaburra will forever be indebted to Deano for his dedication and professionalism as an ambassador to Kookaburra cricket, and everything he has contributed both on and off the field cannot be understated. He is a true legend of the cricketing world, one of the great characters to mold our sport, and a hero to many for his incredible contributions to the game.
Our immediate thoughts are with Jane, Isabella and Phoebe, his extended cricket family and the legions of fans who have followed his stellar career.
Deano we salute you, and while this may be goodbye, you will forever be in our hearts.
RIP Dean Jones from your Kookaburra family.