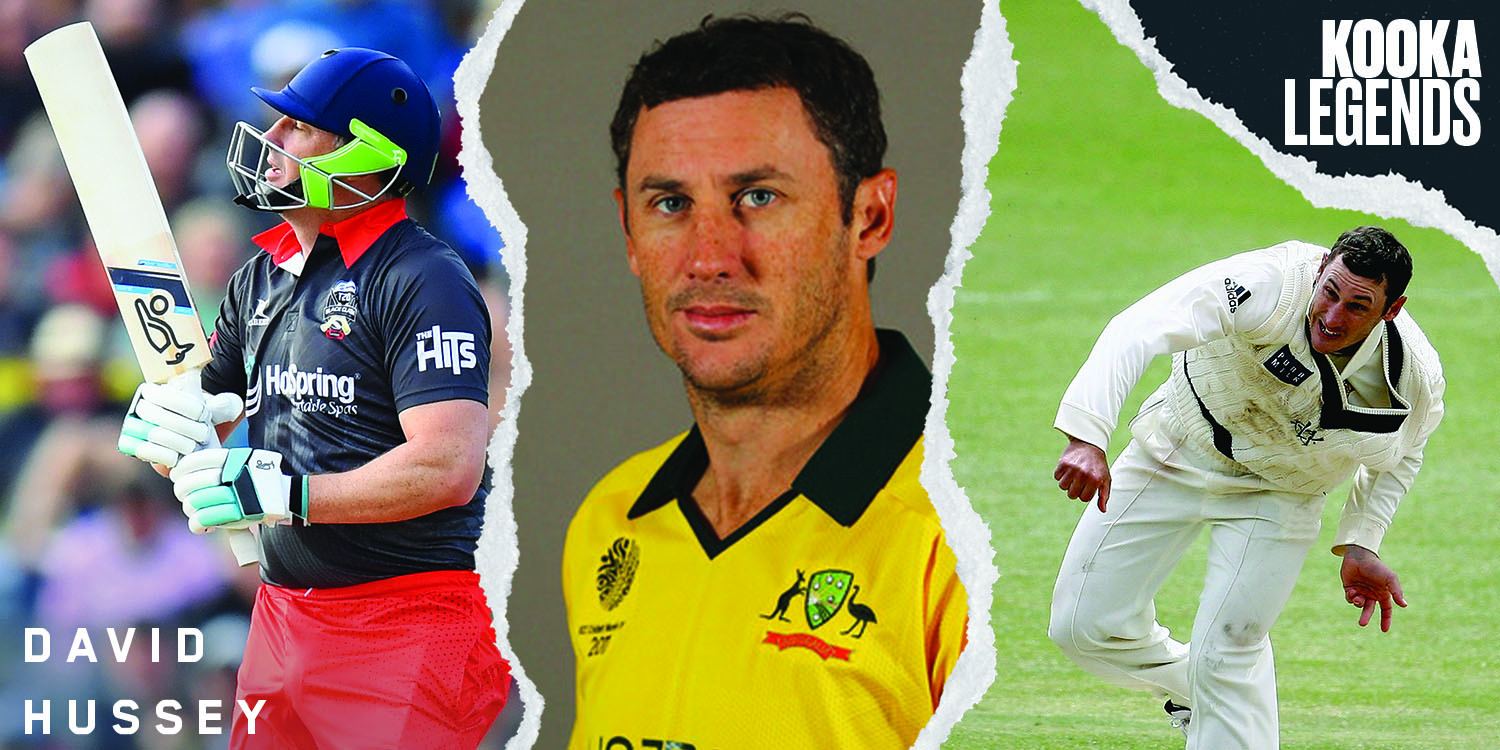 David Hussey

Born: July 15, 1977, Mt Lawley, Perth, Western Australia
Major Teams: Australia, Antigua Hawksbills, Chennai Super Kings, Kings XI Punjab, Kolkata Knight Riders, Melbourne Stars, Northern Districts, Nottinghamshire, Sussex Cricket Board, Victoria
Playing Role: Allrounder
Batting Style: Right Hand Bat
Bowling Style: Right Arm Offbreak

Profile
As the younger brother of Michael, David Hussey has copied his sibling's talent for ridiculous scoring in the English county competition. Also like Michael, Hussey has been forced to pile up mountains of runs in Australia before gaining the confidence of the national selectors. It took his first 1000-run season in 2007-08 before he was finally chosen for a tour, the ODI series in the West Indies in 2008, and earned his first Cricket Australia contract. Earlier in that summer he made his Twenty20 international debut against India at the MCG. Hussey was one of the big surprises in the Indian Premier League auction when Kolkata paid $625,000 to secure him - far more than the sums offered for his brother and Ricky Ponting. Over the next couple of years he was a regular in Australia's Twenty20 team and a fringe ODI player. In 2009-10, Hussey topped the Sheffield Shield run tally with 970 at 57.05, including 168 in the final as he helped Victoria raise the trophy with victory over Queensland. But within a month Hussey had lost his CA contract as the selectors looked to younger men.
Despite his crash-and-bash style, Hussey is desperate not to be pigeon-holed as a Twenty20 player, although that appears to be where his international future lies. Still, he has been a standout first-class player in county cricket and for Victoria; only Simon Katich made more runs than him in the 2007-08 Sheffield Shield campaign. He only made two centuries and his best was 104 but his consistency was remarkable. Equally impressive was his 484 FR Cup runs at 44, including a 60-ball century - the second-fastest in Australia's domestic one-day history - that featured eight sixes. It was no surprise when Hussey was named Victoria's Player of the Year in all three formats. He had come off a prolific season at Nottinghamshire, where he made 1219 runs at 93.76, including 275 from 227 balls against Essex. The next summer he struggled in the Sheffield Shield before making an important century in the final win, and he held on to his national contract. That was soon followed by a brutal 88 from 44 balls in a Twenty20 international in Johannesburg, and his maiden ODI century came against Scotland in August 2009.
An aggressive batsman with a strong bottom-hand technique, Hussey hit a breathtaking, breakthrough 212 not out at nearly a run a ball in 2003-04, which was his first full-time season at first-class level. The innings came as Victoria chased a record-breaking 455 for a Pura Cup victory in Newcastle and Steve Waugh, the opposing captain, was impressed. The summer ended with 857 runs at 61 and was quickly followed by 1208 county runs in 2004. Repeating the local haul was difficult and despite starring for Australia A in one-day games - he hit a century against West Indies and a fifty against Pakistan - he was unable to hold his Pura Cup spot. The unhappy Hussey wanted a release to return to Western Australia, where he had played under-19 and 2nd XI games, but Cricket Victoria insisted he stay. Arriving in Nottingham he immediately fixed a minor technical problem and went on to gorge 1231 runs with a high of 232 not out as the county won the Championship. Another solid effort at Nottinghamshire in 2006 - he made 1103 runs at 50.13 - preceded his state-topping 911 Pura Cup runs at 53.58 in 2006-07, when he scored centuries in three consecutive matches.

Source: ESPNcricinfo