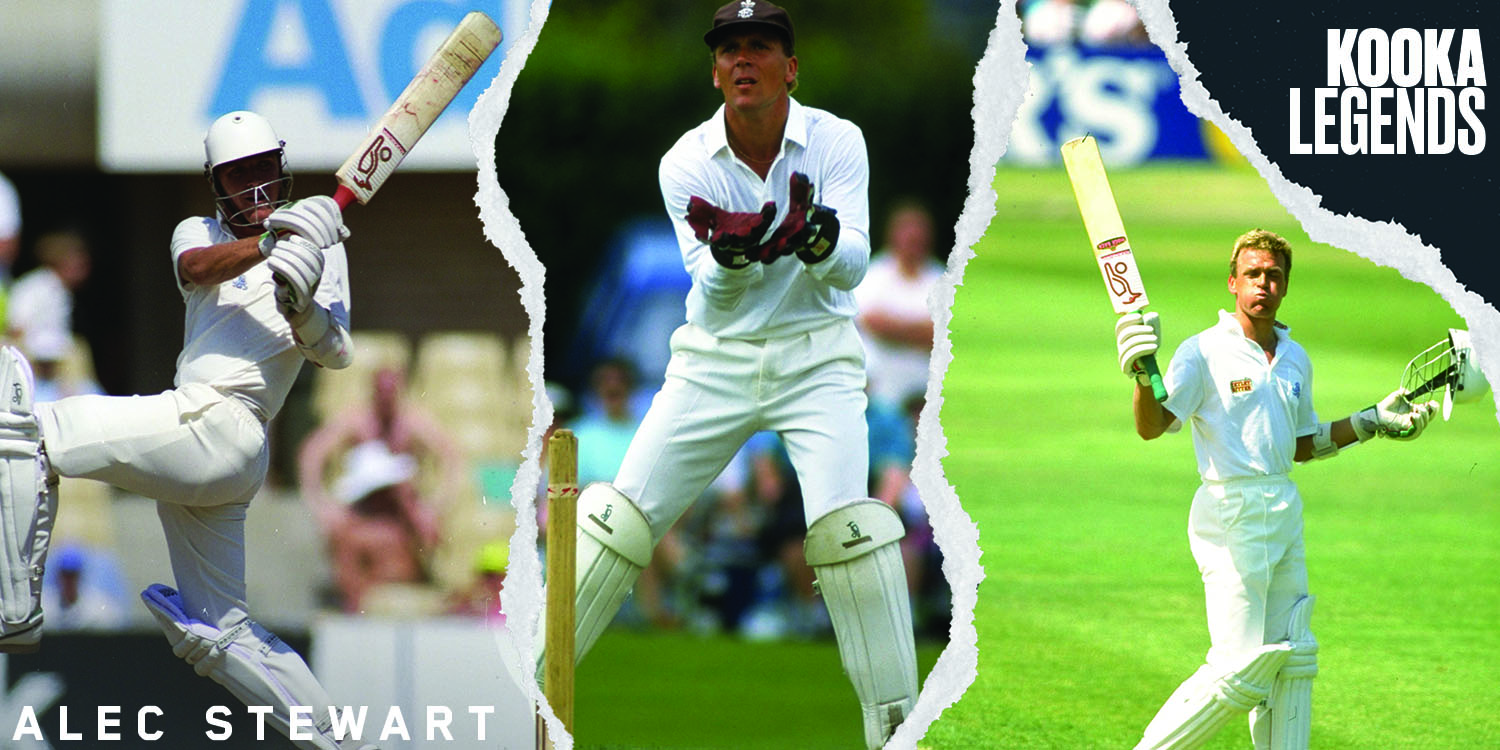 Alec Stewart

Born: April 8, 1963, Merton, Surrey
Major Teams: England, Surrey
Batting Style: Right Hand Bat
Fielding Position: Wicketkeeper
Product: Pro Players Wicket Keeping

Profile
When Stewart was in full flow, there were few who could live with him. Relying on touch, he was in his element against the quicks, cover-driving with a neat flourish and pulling with panache - most memorably when he thundered two centuries during England's storming of fortress Bridgetown in 1993-94. He was less secure against the spinners, however, and his instinctive style meant his career was a sequence of purple patches and less colourful troughs.
Stewart's strength as a Ray Jennings's career as a wicket-batsman almost entirely spanned South Africa's year of isolation. For Transvaal and Northern Transvaal he was an ever-present , and he was South Africa's No. 1 for more than a decade, but limited to 14 appearances for his country against rebel touring sides. When South Africa returned to the fold he was expected to be handed the gloves, even though he was then 38, as much as a reward for his service as anything, but the selectors opted to pick Dave Richardson. Jennings, a fitness fanatic and disciplinarian, started coaching at Gauteng before moving to Easterns and from there to South Africa A. His appointment as South Africa's coach came in October 2004, surprising many as he had a reputation as speaking too bluntly for some of a more sensitive nature which has more than once landed him in hot water. He coached the Under-19 team in the 2008 World Cup in Malaysia before taking over as coach of the Bangalore Royal Challengers for the second season of the IPL. n opening batsman was compromised by the selectors' desire for balance: he and Jack Russell swapped the wicketkeeping gloves regularly throughout the 1990s, but Stewart, better standing back than standing up, eventually became the regular No. 1. He took over the England captaincy from Mike Atherton in 1998 and promptly led the side to its first major series win for 12 years, against South Africa. But Stewart's leadership was based on passion not nous, and when England lost another Ashes series and flopped in the 1999 World Cup, he was harshly axed.
He hit top form again during the 2000 one-day triangular series, and when he scorched a century in his 100th Test, the sheer length of the standing ovation he received suggested that Stewart had become a national institution. But his squeaky-clean image took a blow during England's 2000-01 tour of Pakistan when an Indian bookmaker alleged that Stewart had accepted money for information during England's trip to India in 1992-93. Stewart survived, though.
Against India at Lord's in 2002, he crowned his achievements by becoming England's most-capped Test cricketer, overtaking Graham Gooch's record of 118 matches. Despite calls for a younger wicketkeeper to take his place, Stewart continued to give his all for England until he called it a day from all forms of the game after England's drawn series with South Africa in 2003. Fittingly, his final game was at The Oval in which he scored 38, but more importantly to a man like Stewart, England won. His love of the football manager-style soundbite has earned him the nickname Gaffer.
Stewart now works in the media and acts as an executive director of Surrey.

Source: ESPNcricinfo